Country Gold 3-CD Piano Anthology (Live from The Jason Coleman Show)

Country Gold Piano Anthology
3 CDs · 6 Decades · 40 Songs · ALL Country Piano
Live from The Jason Coleman Show
Enjoy this NEW piano collection from Jason Coleman, covering favorite "Country Gold" standards from the 1950s through the 2000s. This anthology of LIVE recordings from The Jason Coleman Show spans six decades of Country classics over three discs, all played by Jason in the signature Floyd Cramer slip-note piano style.
Watch the video below for a preview of the music:
Songs in this anthology include:
1950s
Crazy Arms · If You've Got The Money, I've Got The Time · Sixteen Tons · Four Walls · It Wasn't God Who Made Honky Tonk Angels · The Three Bells
1960s
Hello Walls · Once A Day · There Goes My Everything · Mama Tried · Here Comes My Baby · Don't Touch Me · Harper Valley PTA · Ring Of Fire
1970s
Behind Closed Doors · Rose Garden · Hello Darlin' · Jolene · Coal Miner's Daughter · Another Somebody Done Somebody Wrong Song · Don't It Make My Brown Eyes Blue
1980s
Forever And Ever, Amen · Smoky Mountain Rain · He Stopped Loving Her Today · Pancho And Lefty · Islands In The Stream · Grandpa (Tell Me 'Bout The Good Old Days)
1990s
Independence Day · Chattahoochee · How Do I Live · Check Yes Or No · The Dance · I Swear
2000s
I Hope You Dance · Bless The Broken Road · Somebody Like You · Long Black Train · Live Like You Were Dying · Only In America
Plus a Bonus Duet with 5-Yr-Old Son Avery
Last Date
ALSO AVAILABLE as part of the COUNTRY PIANO SPECIAL 6-CD SET - A discounted bundle of Jason's most popular albums. Six CDs, 75+ Songs, All Country Piano. SAVE $26! Click here for details.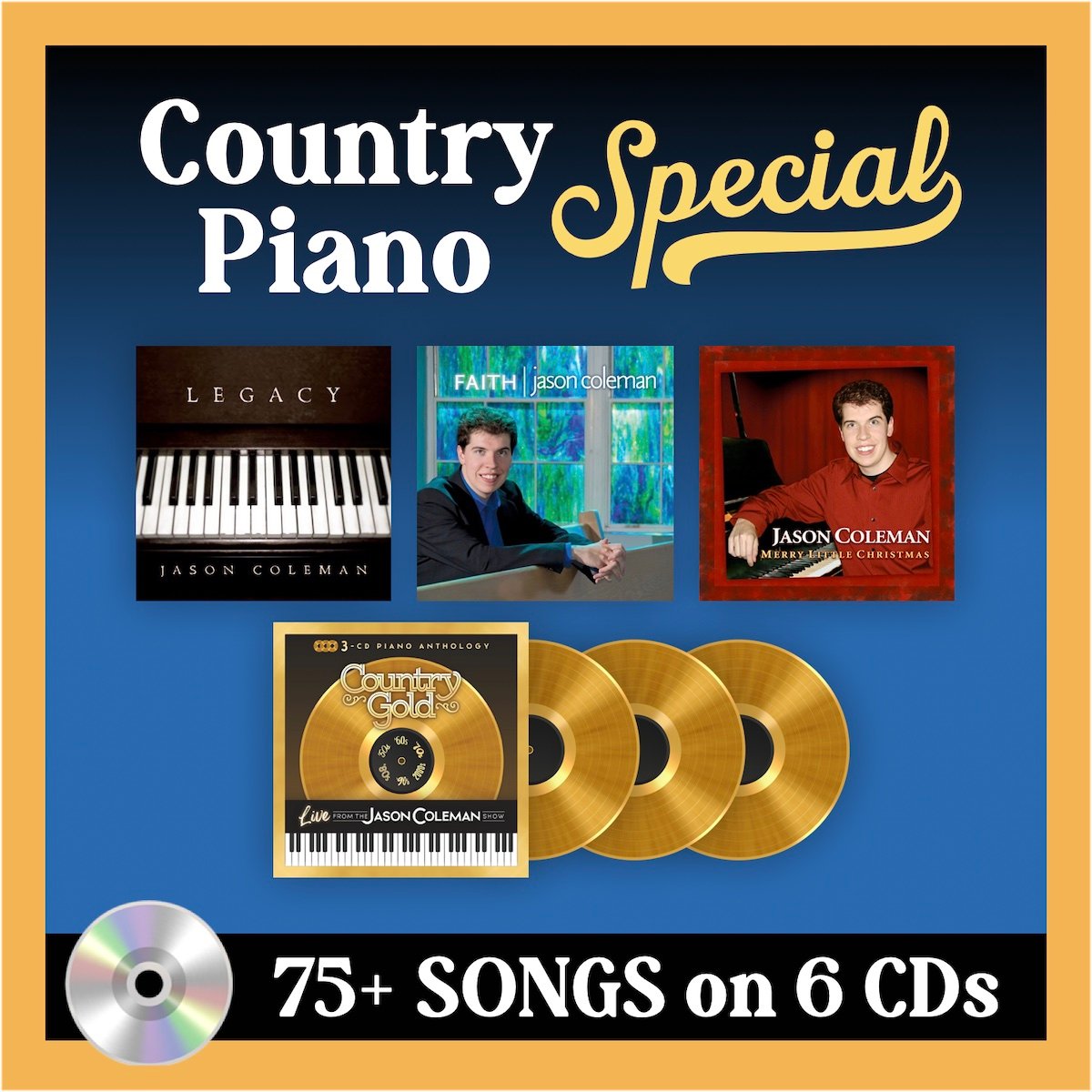 &nbsp
Click 'Add to Cart' to Purchase Online

Or 📞 Call 833-633-8885 to Order By Phone